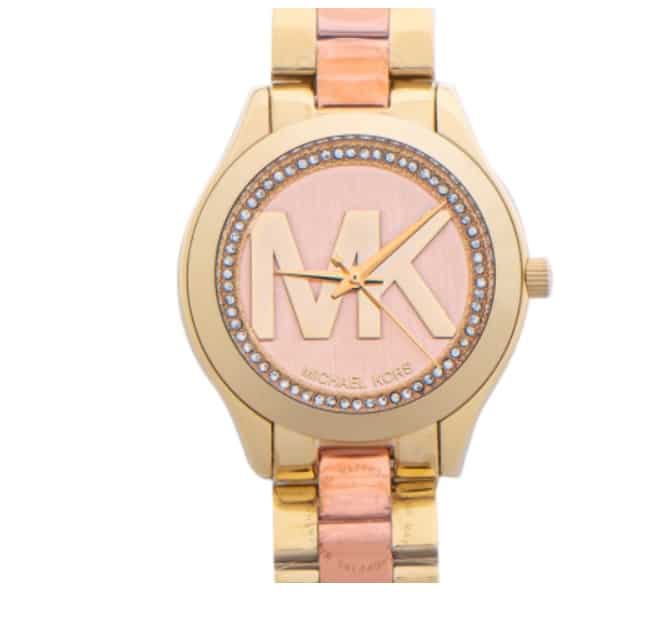 Women are very particular in fashion, whether dress, pants, eyewear, bags, headwear, jacket, and accessories. They are always sure that everything goes perfectly with each other from head to toe.  There are thousands of brands in the market that can offer you high-quality and fashionable clothes, but not all of them are the same as the famous Michael Kors.
This brand has an exquisite collection of clothes, shoes, bags, eyewear, accessories, and watches that are guaranteed to be durable and fashionable to wear. In addition, this brand recently released a wide design of watches under the Slim Runway collection, which are made perfectly for the ladies. To know more, here are a few designs for you to choose from.
Michael Kors Mini Slim Runway MK3650
The MK3650 is one of the new series of Slim Runway that is ideal for women who love to wear different casual and formal dresses. This Michael Kors Watch has a combination of rose and gold, making it luxurious to wear. It has a rose dial with a big MK logo in the middle in gold-tone. The hour marker of the watch is made from gold material in a feminine style.
It has a stainless steel round case in gold color with a solid back and a diameter size of 33 mm. The watch's bracelet has the same color as its case, which is gold same as its buckle. It has a quartz movement with an MK original caliber. This elegant-looking watch is ideal for water activities due to its water-resistant feature of 50 meters. 
Michael Kors Slim Runway MK3587
This sophisticated-looking watch is one of the new pieces of watches from the Michael Kors Slim Runway collection that is made just for the ladies. Women who love black color tend to fall in love with this timepiece easily due to its block-tone body. It has a black dial with a silver hand marker and hour marker indexes and a gunmetal style hand. 
The case of this sophisticated watch is made with stainless material, same with its buckle and bracelet in black color. The diameter of its case is round with a size of 33 mm, and it is covered with a mineral crystal to protect its dial. The type of movement of this watch is quartz with a full-body water-resistance of 50 meters.
Michael Kors Slim Runway MK3222
If you are looking in the market for a feminine and elegant design of a watch that would perfectly fit with any formal and casual attire, then this MK3222 is what you've been looking for. It has a champagne body color that would fit any outfit. In addition, the dial of this timepiece is champagne with golden hour markers and hand marker indexes.
The movement of the watch is a quartz type with an MK original caliber. It has a 42 mm round case with a scratch-resistant mineral crystal protecting its dial. The bracelet of this timepiece has a braid-type design in a golden tone, making it look more feminine. In addition, this elegant and luxurious-looking watch is water-resistant at 50 meters.
Michael Kors Slim Runway MK2392
The MK2392 watch is one of the new models of Slim Runway that is great for any casual attire. It has a round diameter case of 42 mm in stainless steel material. The dial of the watch is gold without any indexes on it, only the MK logo. The hand indexes of the watch are gold in stick style, making it elegant.
It has an MK movement caliber in quartz type, and the bracelet of the watch is leather material in black color with a thin design to help emphasize its golden case. In addition, this timepiece has a water-resistant feature of 50 meters. 
Michael Kors Slim Runway MK3317
This design of Slim Runway is one of a kind, and it has an elegant approach that would go perfectly with any casual attire. It has a black dial with gold stick indexes and hands. The case is black with a stainless steel material of 42 mm. The watch has a braided style stainless steel bracelet, and to add to its features, it is water-resistant by 50 meters.
Takeaway
When it comes to female watches, Michael Kors makes sure that all the needs and desires of a woman are met by making high-fashion watches in high quality. If you are still looking for the perfect watch for your everyday wear, then the Slim Runway collection is one of the best for you.