Named for the white tiles that lined subway stations in New York, subway tile has become a design staple. Its versatility allows homeowners to style it for various design aesthetics, including incorporating different patterns into the layout.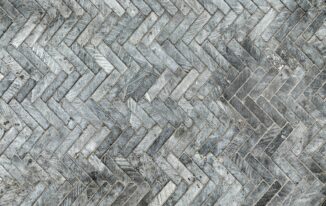 Changing up your tile pattern is one way to refresh the look of a kitchen backsplash or bathroom wall. Here are some creative ways to do it!
Mosaic Pattern
Subway tiles are named for their initial use beneath New York subway stations in 1904. These classic rectangular tesserae can add structure to a kitchen, bringing a feeling of order and symmetry that sets a serene backdrop for your cooking adventures.
While most of us consider using subway tile as a horizontal backsplash, there are many other ways to arrange the pattern to create unique kitchen designs. One popular option is to stack the oblong pieces in a herringbone pattern, creating a zig-zag look that adds texture and catches the eye.
Another way to make a statement with your backsplash is to use color-blocked courses of subway tiles. This technique allows you to showcase different colors and textures, allowing the design to have its character distinct from the overall kitchen aesthetic. This asymmetrical layout works well for smaller spaces, and it's easy to get creative with the grout color to bring this style to life.
Vertical Layout
Named for the subway tiles covering New York City streets, this sleek, versatile material is a timeless addition to any kitchen backsplash or bathroom shower surround. But don't let this classic tile go stale; experiment with these fun patterns and layouts to give your home an eye-catching upgrade.
One of the most classic ways to use subway tile is a stacked pattern, where the tiles alternate between vertical and horizontal orientations. This is a great option for a modern kitchen because it adds dimension and opens the space.
Another fun variation is to use a herringbone pattern with a 90-degree tilt. This is a great way to draw the eye upward and make the ceilings feel taller, especially in bathrooms.
Another cool way to play with a herringbone pattern is to lay the tiles in a vertical offset layout, which adds a contemporary touch and looks particularly striking with darker grout colors. This layout is also a good choice for spaces with plumbing or other fixtures, as it allows you to work around obstacles without disrupting the flow of your design.
Contrasting Grout
Subway tiles may be timeless, but that doesn't mean they can't offer a bit of flair. When paired with an impactful grout color, subway tiles can create an attractive design. Choosing a grout color that contrasts with the tile will emphasize the tile's size and shape while reducing visual clutter. Alternatively, you can choose a neutral grout that blends in with the tile for a more subtle effect.
Subway tile can also look more unique when arranged in a herringbone pattern, as seen in this bathroom by Kureck Jones. It adds a touch of texture to the room and complements the purple-veined marble, sky blue paint, and floral wallpaper nicely.
While running bond is a classic way to install subway tile, don't be afraid to experiment with other patterns. For example, laying the tiles vertically in a herringbone pattern can make small bathrooms and kitchens appear taller. 
For a look that exudes elegant simplicity, try horizontally stacked subway tiles. This classic layout draws the eye upward and creates the illusion of a taller space, perfect for low-ceilinged rooms. This tile pattern is easy to achieve and can be used in various settings. Choose a grout and color that complements the tiles, and voila!
Add a herringbone pattern to your space if you're in the mood for something a little more bold. This striking pattern works well when spanning the entirety of your backsplash or in smaller sections. Using a herringbone pattern with contrasting grout is best for the most impactful visual effect.
Another simple but on-trend way to lay subway tiles is to stack them vertically. This looks great in showers and other large wall surfaces and pairs beautifully with modern materials and a neutral color scheme.
Layered Aesthetic
Named for the white subway tiles that covered the tracks underneath New York City, subway tile remains a go-to material for kitchen backsplashes, bathroom walls and shower surrounds. These versatile backsplash materials offer a range of design options that mesh well with countless decor styles. Whether you choose to lay your porcelain subway tiles horizontally or vertically in a classic running bond pattern or herringbone style, the layout pattern you choose significantly impacts your finished look.
For example, running bond subway tile creates a seamless, brick effect that looks beautiful on both a horizontal and vertical wall. This popular tile pattern is easy to lay out and presents a crisp, cohesive stage for busy spaces like kitchens.
For a more unique look, try herringbone-style subway tiles. This bold pattern offers movement to a room and can prevent the space from feeling too static. Pairing herringbone subway tiles with a bold, colorful backsplash is an excellent way to showcase a vibrant personality while maintaining the calm backdrop of a classic subway tile design.