BAT stands for Basic Attention Token is yet another project to make crypto and DeFi easy, accessible and usable for everyone. Launched by Brendan Eich, the co-founder of Mozilla and Firefox and Brian Bondy in Feb 2021 through its whitepaper and built on the Ethereum blockchain network, the main focus of the token is better security, justice and efficiency in the domain of digital advertising by adding the flavour of blockchain technology to it. This is the native token of the brave browser. Brave browser is a new web browser which blocks all malicious and unwanted ads automatically and provides a smooth and fast user experience.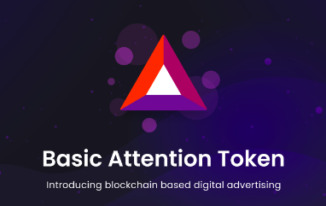 There are more than 54 Million active users of brave browser out of which over 16 million users use this on a daily basis. BAT is basically a blockchain-based system which can be used to track users' attention and time while surfing the internet through Brave Browser.
This project is made to distribute capital earned by advertising among the advertiser, publisher and consumer. It aims to show only desired and well-made ads to the consumers according to their interests and protect the user's privacy as well.
How to earn BAT from Brave Browser
By watching Ads
Download the Brave browser on your PC.
Click the BAT logo present on the right corner of the search bar
Turn on the option of Brave Rewards and Ads, you can now earn BAT by watching ads and exploring the web.
Go to the Reward Settings window and choose the number of ads to be displayed to you per hour from the settings option present next to the toggle switch.
You can select your state or let brave decide it and can access other customisation options to get personalised ads.

By Installing Brave Browser
Users can receive BAT by just installing and using the Brave browser for 30 days.
The initial reward could value at up to 5 USD worth of BAT.
Users might also get 25-40 BAT every month through random grants.
As a Content Creator
You can become a creator if you are good at podcasts, music, blogging, video making, etc.
You have to register on the Brave browser in the creator section available on the browser.
Brave Reward Program enables users to tip the creators directly on their website.
Refer and Earn
Referring Brave browser to your friend could bring up to 7.5 USD of BAT to you.
Just refer your friends through the link provided by the brave browser's referral section.
BAT Price History
The data traces back to December 2017 when BAT opened at 0.15 USD and reached the highest of 0.46 USD and closed at 0.41 USD. This month the volume of BAT was recorded to be 446 Million USD.
Just in the next month, at the beginning of the new year, the token reached a high of 0.98 USD with a volume of 1.07 Billion USD. The following month saw a drastic drop in volume from 1.07 Billion USD to 150 Million. The token touched a low of 0.23 USD in the next month and keep seeing new lows in the coming months. The price never crossed the 0.50 USD mark after May 2018, at least not that year. It closed at a price of 0.12 USD in 2018 which was significantly low when compared to the last year. The volume dropped as low as 92 Millon USD and touched the 1-billion mark once.
The first quarter of 2019 was quite similar to the previous year. The price kept oscillating between 0.10 and 0.20 USD. In April 2019, the volume reached 1.6 BIllion USD surprisingly and the price touched 0.49 USD. The rest of the year was comparatively better for the coin. Although it never saw a sudden spike in prices neither it dropped drastically. The price remained tight between 0.20 USD and 0.30 USD after May 2019. This was a much better year in terms of volume. After the first quarter, the volume never went too far below the Billion Dollar mark. The highest volume was recorded to be 1.7 Billion USD.
2020 was the year for BAT when it gained popularity. Although the prices were not so high the volume was breaking records throughout the year. BAT opened at a price of 0.18 USD in January touched the mark of 0.43 USD in August and closed at 0.19 USD in December. The volume keeps growing from 1.7 Billion USD in January to 3.1 Billion USD in mid of the year. In August 2020, the volume saw a sudden jump was recorded to be 7.6 Billion USD which was the highest that year. The volume figures never dropped below the 1 billion mark in 2020.
Coming to 2021 could be marked as the best overall year in the history of BAT. It opened at 0.19 USD with a volume of 8.8 Billion USD. The very next month, the price touched the highest-ever mark of 0.69 USD and the volume increased to 13.3 Billion USD. For the next few months, it was at its best. In March the price crossed the 1 USD mark and closed at 1.14 USD with a volume of 19 Billion USD. In April, the price reached 1.64 USD the highest price until then. The very next month it started to face a fall and closed at 0.76 USD after seeing a high of 1.58 USD. For the next few months, the coin was below the 1 dollar mark and again touched the mark in September and October but didn't stay there for long. But again in November, it spiked to 1.92 USD with a volume of 19.6 Billion USD. It closed at 1.2 USD in December 2021.
BAT token in 2022 opened at 1.2 USD and saw a continuous fall throughout the year and witnessed a low of 0.21 USD and a high of 1.35 USD in January. By December 2022, it dropped to 0.16USD.
From the very first day of 2023, BAT is showing positive move, and is trading at 0.2093, up by 20% in the first 6 months of the year.
Present statistics of BAT
After witnessing a vibrant journey throughout its lifespan, the price of 1 BAT is 0.23 USD on November 24. It has a market cap of 344 Million USD which would go up to 345 Million USD if the maximum supply of BAT is circulated in the market.  There are a total of 1.5 Billion BAT circulating in the market today.
BAT Price Prediction 2023-2030
BAT Price Prediction 2023
2023 is going to see an increasing slope but quite slow.
BAT price will touch a maximum of 0.39 USD in January and a low of 0.35 USD. With gradual growth, it would oscillate around the bin of 0.3 USD to 0.4 USD and won't see a huge gap in the minimum price. In December 2023, BAT would cross and close around the mark of 0.50 USD.
BAT Price Prediction 2024
The growth it saw in 2023 will be continued. It will open at 0.56 USD and will cross the 1 Dollar mark again in August 2024. With some ups and downs, it would revolve around the price of 1 USD. It could face a small fall in October but would again regain its strength in the very next month and will reach close to around 1.25 USD in December 2024. The gap between the maximum and the minimum price would not be a matter of concern in the monthly snapshot. When considering the year, the highest price is predicted to be 1.24 USD and the lowest is as low as 0.51 USD.
BAT Price Prediction 2025
2025 is not expected to be a fruitful year for BAT as it will not see significant growth in the price as it is expected to see in the previous 2 years. The price will fall below the 1 dollar mark in the first month itself but will remain close to 1 USD throughout the year. In April, August and October, the price won't touch 1 USD even once and will close at its best price of around 1.20 USD in December. The lowest expected price in 2025 would be 0.85 USD.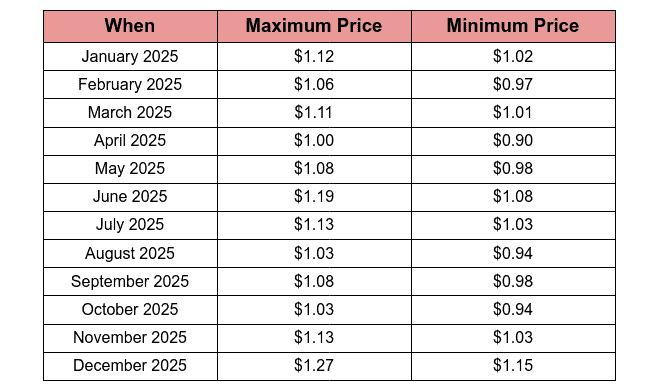 BAT Price Prediction 2030
The coin will face yet another fall from 1 dollar to 0.50 USD in 2026 and 2027. But it will again start rising in 2028 and will never see the past. It would witness comparatively steep growth in the middle years and will touch the 2-dollar mark in 2029 and would be close to touching the 3-dollar mark by the end of 2030. The maximum price is expected to be around 3 USD and the minimum price will drop as low as 2.06 USD.
Can BAT reach 10 USD?
Reviewing the past, present and future of BAT, it can be concluded that it does not look to cross the 10 USD mark by 2030, at least under normal circumstances but one should remember that the crypto market is a game of uncertainty and anything can't be precise accurately here. So it might be possible that some event or series of events would trigger the price and boost it beyond 10 USD but it is not crossing that point under usual circumstances until 2030 and beyond.
Exchanges selling BAT
Although it is the native token of the Brave browser and can be earned through multiple ways for free if you are not free to watch ads and perform tasks assigned by the brave browser and still wants to own BAT, there are various decentralized exchanges available that sell BAT. A few of them are coinbase, binance, Gemini, 0x, Zebpay, BitFlyer, BitGo, coindesk, coinmarketcap, crypto.com, etoro and FTX.
FAQs
How much will BAT cost in 2030?
BAT will cost close to 3 USD in 2030 but will not fall below 2 USD throughout the year.
How is BAT's growth in this decade?
The growth of BAT is subjected to market fluctuation, it is sinking and swimming this decade but is expected to grow in a bigger picture.
What would be the price of BAT in 2025?
After it touches the mark of 1 USD in 2024, it would play around 1 USD throughout the year 2025.
How many BAT tokens are there?
There are about 1.50 Billion BAT tokens in supply right now.
How to buy BAT?
Choose your favourite decentralized exchange from the list of exchanges listed above and make an account on it.
Select the coin and choose the payment method.
Store your BAT in your wallet and trade with it.
Do Brave award creators as well?
There are more than 829K creators on youtube, 223K creators on Twitter and 177K on Twitch and a total of 1.7 Million creators are well rewarded on basis of the policies they agree on with brave.
How many on-chain transactions do BAT has?
BAT has more than 3.9 Million On-chain transactions.
Is BAT worth investing in?
BAT is a token with great potential for growth and it is recommended for long-term investment plans. However, you can also go with Solana, COMP, ETH, XRP, and DOT. If you are interested in learning about them, you could head over to any cryptocurrency blog like Binance Academy. I also recommend you to go through their price prediction before purchasing any token. For example, you can check XRP price prediction before buying XRP token.