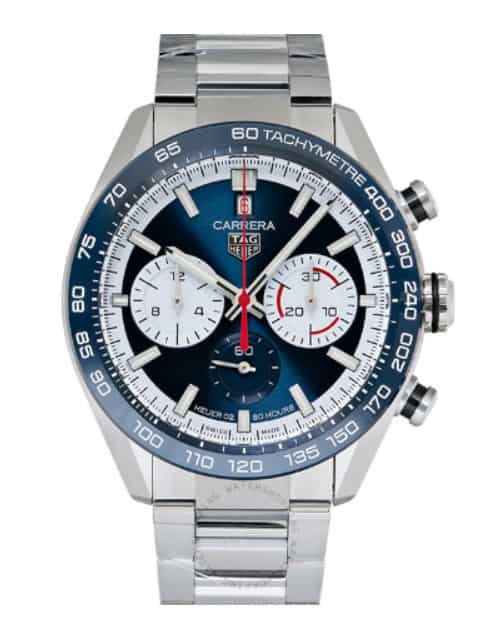 This Swiss luxury watchmaking company began with a different name all the way back in the year 1860. Being one of the oldest watch brands out there, they have had years of experience, which ensures excellent quality, stunning design, and outstanding performance in every piece they create. With TAG Heuer, you will always have perfection by your side.
We took it upon ourselves to look through their masterful collection, and we list down eight(8) timepieces that we believe can boost your every look. From cool to warm colors, from formal to casual occasions, this list has got you covered with suggestions of timekeeping partners for your wrist, so you can tell time accurately and fashionably.
TAG Heuer's collections: Carrera Calibre Heuer 02 Automatic Grey Dial Men's Watch
Starting the list off with this minimalistic yet classy watch. This Tag Heuer watch is a perfect example of the timeless designs that they have. A silver casing with dark leather straps is a timekeeping recipe for iconic and classy designs, but the grey dial really adds a sense of coolness and calm to this piece making it a handsome yet simple watch.
TAG Heuer's collections: Carrera 160th Anniversary Chronograph Automatic Blue Dial Men's Watch
Next up is this cold and sharp watch with its silver and blue color palette. The silver gives it a sense of precision, while the stunning deep blue of the dial and the bezel adds maturity and depth to the entire piece. This piece is classy and handsome and is bound to make whoever wears it look stunning in every possible way.
TAG Heuer's collections: Carrera Chronograph Automatic White Dial Brown Leather Strap Men's Watch
Going back to the more minimalistic designs, this watch is elegant in every aspect of it. It sports the timeless silver casing with a brown leather strap. The white dial gives elegance and purity to this watch, while the golden details adds a sense of sophistication and grace to the timepiece. As a result, this watch is the perfect partner for any and every activity you could think of.
TAG Heuer's collections: Aquaracer Quartz Black Dial Men's Watch
This watch has a striking silver and black color palette that catches the eyes of everyone in the room and allows for easy readings. In addition, this piece is genuinely mesmerizing, thanks to its black dial that contrasts sharply with the silver casing and details. Finally, this watch is made for the waters with a water resistance of up to 300 meters or 1000 feet.
TAG Heuer's collections: Carrera Heritage Automatic Chronograph Silver Dial Men's Watch
Here is a breezier and youthful watch. This watch lies somewhere between intricate and minimalistic with its white, silver, and blue color palette. This piece has a sense of calm, lightness, and relaxation, making it a very charming watch. As per its vibe, this watch can help you look effortlessly stylish anytime and anywhere.
TAG Heuer's collections: Autavia Calibre 5 Chronometer Automatic Brown Dial Men's Watch
This watch is bound to set you apart from the crowd, thanks to the smoky brown palette that not many timepieces have. In addition, the color palette that is rich in brown tones gives the piece that warm and earthy quality to it. Indeed a unique and bold watch that not many can pull off, but those who can pull it off are stunning in every sense of the word.
TAG Heuer's collections: Carrera Chronograph Calibre 16 DD Automatic Black Dial Men's Watch
This timepiece radiates elegance and sophistication in a subtle yet striking way. The brilliance of the color palette is truly a marvel. Black leather straps, a black dial, and a silver casing makes for a powerful and confident combination that catches anyone's eye, not to mention the gold details add just the right amount of charm to the piece.
TAG Heuer's collections: Carrera Calibre Heuer 02 Automatic Skeleton Dial Men's Watch
Ending the list with a watch with a very busy face. This watch is TAG Heuer's take on the skeleton dial, a dial that exposes the inner working and brilliance of a timepiece. The dark color palette of this watch gives it a sense of seriousness, while the busy face, thanks to the many exposed details, adds a sporty quality to it. Wearing this is bound to make everyone take a double-take on this striking timepiece.
Takeaway
TAG Heuer has timepieces to express any and every statement you want. TAG Heuer has got it all for you, from minimalistic and subtle designs to loud and intricate ones. You will never be disappointed with TAG Heuer's quality, design, and performance. So the next time you are looking for that perfect timepiece, you know where to look.