Bathroom remodelling is a huge job, and if you're working with an area that's oddly shaped, has unusual (even visible) plumbing, lacks natural light, and so on, it may be difficult.We understand how tempting it is to just pull everything out and start over, but if you follow our professional advice, you won't have to resort to such drastic means when remodelling a bathroom. You can check MaxHome bath remodelling ideas/tips before starting your remodel. Here in this post, we share certain important things that you need to check before you get started! Let's see them!
Power and Illumination
Any rewiring, lighting schemes, or the inclusion of an electric shower or shower pump will require the services of an electrician. Speak with one before any construction or plumbing work begins so that they can fit their duties into your bathroom renovation timeline. To lighten up the space, consider installing recessed light lights across the ceiling. With the right shower trim, you may include one (or two) in your shower. Install a dimmer switch in your bathroom to change the ambiance. Whether you're wearing make-up or shaving, well-placed bright light sources can help you see what you're working up close.
Piping and sanitaryware
Drains in residential plumbing are generally 1½-inch pipes. You'd be shocked at how much hair and filth makes its way down the drain. The less likely a drain is to clog, the bigger it is. The expense of upgrading to a 2-inch drain is relatively insignificant, and unless your frame doesn't allow for it, it's a no-brainer. You must pick all sanitaryware before plastering or tiling to guarantee that the hot and cold pipes, as well as the waste, are in the right places. Specify everything before the first-fix stage, since waiting until the sales period to make important selections might lead to costly changes with your bathroom renovator.
The walls and the floor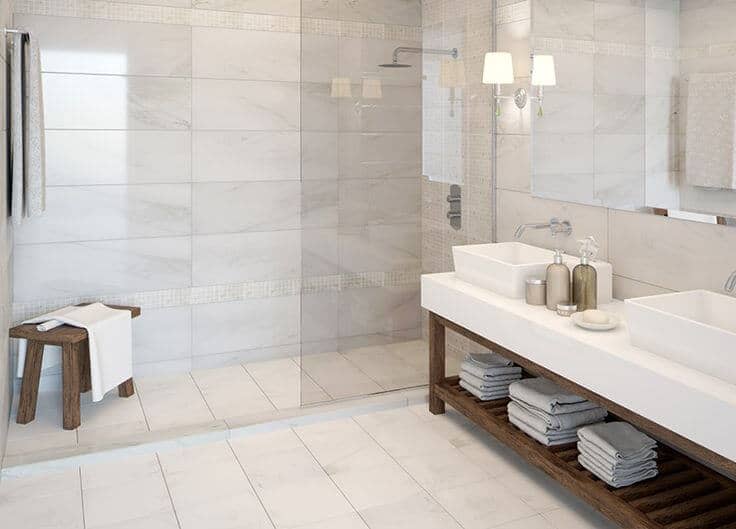 In the bathroom, virtually any material may be used to cover the walls and floors as long as it is watertight, either naturally or by the application of an impermeable coating. Ceramic, marble, or granite tiles create attractive and very durable flooring and wall surfaces for bathrooms, depending on your finances and style. Additional flooring alternatives include painted or stained cement, sheet vinyl, and vinyl tiles (which are inexpensive and look better than they used to). Whatever option you choose, keep in mind two additional key factors for bathroom flooring: endurance and slip resistance.
Shelves, closets, and storage
In most situations, planning cabinets, shelving, and storage solutions is a difficult task. It's much more so in tiny, oddly shaped spaces like the bathroom. They must be practical and contain all of your belongings while keeping everything within easy reach, they must fit into the available space and make the most of it, and they must look fashionable on top of it all.
Remember to allow for ventilation.
Condensation is to blame for a lot of wet problems. When planning your bathroom renovation, bear in mind that bathrooms are wet and steamy by nature. Install appropriate ventilation devices (such as an extractor fan) to keep moisture to a minimum.
If your bathroom has wooden windows, a window vac that can suck up condensation can come in handy for swiftly removing water that might ruin the frames (for more information, see our guide to preventing wood rot).
Bottom Line
Above checklist of 5 things to consider before starting your bathroom remodel is to guarantee that your bathroom remodelling project is a success. We've compiled our finest bathroom renovation above listed from the professionals to help with all sorts of bathroom remodels.