In a clamoring online marketplace, businesses need every possible advantage to get an edge on the competition. A navigable and trustworthy website is crucial to connect with customers and make sales. Get the facts about e-Commerce payment processing and discover how it can give your company a competitive advantage.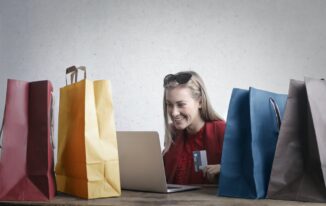 Does Your Business Need It?
Does your business need to have an e-commerce payment processing system? Any company that markets services and products online needs an e-commerce payment processing method. Customers expect sites to be secure and offer various options for payment. Anything less sends them surfing away to the competition. Sharp Commerce consulting services help businesses find the right e-Commerce system for their unique needs and requirements.
Exceed Customer Expectations
The more payment methods you offer, the more likely customers will take action and make purchases. People want choices when it comes to payment methods. From credit and debit cards to PayPal and GooglePay, there are countless ways for people to pay online for goods and services. An e-commerce system provides a secure platform with enough choices to appeal to a wider target audience. Investing in the right e-Commerce payment processing method is another way to exceed customer expectations by providing more ways to pay.
Understand Payment Methods
Once you recognize the need to offer multiple payment options, merchants should understand how clients prefer to pay for their purchases. There are four main ways customers want to pay online:
Direct debit comes from the customer's bank account, which is deducted immediately, much like paying cash.
Credit cards pay for nearly half of online purchases and should always be an option for your clients.
Other payment options include PayPal, Google Pay, Apple Pay, other wallet models, and payment options such as Affirm, Afterpay, and Klarna must be included for customers to pay off purchases without using credit.
Bitcoin and digital currency are used by few customers, but this growing option should be recognized and represented for future growth
Not all payment processors can accept all these types of payments, and this is when e-commerce consulting services are beneficial. A consultant helps companies find the right payment processor to reduce or eliminate lost sales due to payment issues.
How the Payment Process Works
The next step is to recognize how the online payment process works. An online sale requires three basic components that work seamlessly together. Payment gateways provide communication between your site and the customer to transmit key data. Secondly, payment processors receive the client's data, validate it, and then transfer funds from the shopper's account to the merchant's bank account. Finally, your account is necessary to gather the shopper's fund. While this is a simple overview, it helps you understand the need for a properly designed e-commerce system to process clients' payments securely.
Be Mobile-Friendly
An increasing number of shoppers are searching on mobile devices and making purchases on-the-go. People want to shop while they travel, work, and handle other things. Make sure the e-Commerce payment processor and gateways are mobile-friendly. As more people use smartphones and tablets to shop online, you don't want to miss these sales. Customers expect a site to be completely mobile-friendly, or they'll surf over to the competition.
Security Matters
Customers need to trust your site to make a purchase. Visitors won't take action if a site looks sketchy and its payment methods seem insecure. Security steps must be in place to protect everyone involved in each transaction at your site. Protecting your business information, as well as client's personal data, is essential to protect them and your company's reputation. If a business fails to safeguard its client's information, it suffers professional and financial damage. Hackers are constantly finding new ways to compromise secured information, so choose an e-Commerce payment processor that offers maximum security for your clients.
Reasonable Processing Fees
Payment processors typically charge a percentage of your total sale. Not all processors are created equal or charge the same fees. The goal is to find a processor that offers the highest level of service and charges reasonable fees. Paying less could mean getting less service and fewer options than your business needs. However, you often don't have to pay more for the same processing type if you shop around. An e-commerce consulting service does the shopping around for your business to find a viable choice that works for your budget and customers. Also, remember to compare fees such as chargebacks and those assessed for international sales.
Common Payment Methods Accepted
Customers want to pay their ways, and you should make it simple for them by choosing a payment processor that accepts common payment methods. Credit cards are the most common choice among consumers today, and your site should securely accept them. The more payment methods, the better for your business. You won't lose sales because people can't pay for products or services in their preferred way.
Meet Industry Standards
Finally, make sure your payment processor meets current industry standards, such as compliance with the Payment Card Industry Data Security Standards. These standards exist to protect businesses and customers. Compliance is crucial for your business to succeed and avoid liabilities. Make sure your payment processor follows these standards to provide the best possible experience for customers.
Customer Experience
When choosing an e-Commerce payment processor, consider the user experience. Determine how your target audience prefers to pay and whether the processor offers these payment methods. More options keep customers coming back for more because they have a way to pay for products and services. Never lose a customer because they don't have a viable way to pay.
Working with an e-Commerce consulting service is the first step toward implementing the best payment processing system for your business. Capturing online sales is crucial to stay profitable. Having a mobile-friendly site that accepts all types of payment options can put your business ahead of the competition. The initial investment will help your company grow and handle modern payment methods as they evolve. Schedule a consultation today to learn how to make more money tomorrow.