Knowing what you're wearing is essential when it comes to breathable fabrics. A well-fitting top can help, but certain materials are naturally better at breathing and reducing sweat than others.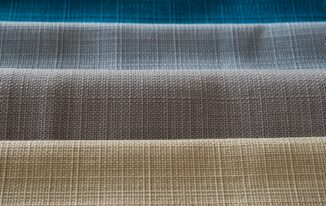 Look for open knits, looser weaves, and thinner yarns that are more breathable. The easiest test is to hold up the fabric to light–the more light that passes through, the more breathable it is.
Cotton
Cotton is one of the most breathable fabrics, making it ideal for athletic and outdoor clothing. It is also highly comfortable, wicks moisture, and dries quickly. It's also soft on the skin and easy to care for.
The breathability of a fabric is determined by its ability to transport water vapor through the yarn and weave. Fabric manufacturers have specific tools that measure this rate, known as the water vapor transmission rate (WVTR).
Breathable fabrics are designed to help reduce perspiration and camouflage sweat marks so you can look great on the go. The most popular breathable workout fabrics are polyester and nylon, but natural fibers like cotton can still offer the comfort you want to perform at your best. Especially if you opt for a cotton fabric treated with Transdry technology, you can expect cotton activewear to breathe well and keep you dry during your next workout. It even helps to boost your body's natural thermo-regulation, allowing air to circulate and cool the sweat on your skin. This enables the garment to stay fresh and clean of odors between washes.
Polyester
A synthetic fiber, polyester is durable and stretchy. It has good breathability, allowing air to circulate, which speeds up sweat evaporation, keeping you cool and comfortable.
It was a common belief that cotton does not absorb sweat and isn't suitable for workout clothes. However, the truth is that cotton has very good breathable properties. In addition, it has excellent odor management and doesn't hold on to the byproducts of sweat-like foul smells.
Similarly, linen is another natural fabric that has very good breathable properties. It's lightweight, drapes beautifully and is often used in formalwear. It's also highly crease-resistant and easy to care for.
Fabrics made of polyester and spandex are intended to breathe better than others. Look for textiles that drain moisture away from the skin so that it can evaporate more rapidly.
Polyester spandex is frequently combined with other materials to increase elasticity and comfort. For instance, if you visit websites like Lycra.com, you can find polyester and spandex blends with cotton, rayon, or bamboo.
While most breathable fabrics reduce sweat, not all do so equally well. Moisture-wicking fabrics are engineered with tiny pores that draw water molecules (sweat) away from the body to the material's surface, where they can evaporate safely. Breathable fabrics have a larger space for air to pass through and are less sophisticated in moisture management. The pore size determines how much the fabric can breathe, while the knit and weave of the material also influence breathability.
Rayon
Some best-selling sweat-wicking, breathable activewear fabrics feature anti-odor properties and camouflage excessive perspiration by drawing moisture away from the skin. The fabric's level of breathability also depends on its weave.
Rayon is a semi-synthetic, plant-based fabric with the soft texture of silk and cotton and a fluid drape that looks great in everything from flowy tops to loose pants. It's made from purified cellulose fibers typically sourced from the wood pulp of pine, eucalyptus or beech trees, as well as residual fibers called linters that cling to the seeds of cotton plants during ginning.
While rayon does breathe and is a natural fabric, the material has a bad reputation for being environmentally unsustainable. It is a major contributor to deforestation, says Canopy, a non-profit that connects brands with responsible sources for artificial cellulosic fiber. The group has started a Hot Button report that scores all global rayon, modal and lyocell manufacturers and their sustainability efforts. However, rayon can have a bright future as the fashion industry embraces alternative sustainable production methods.
Linen
Linen is an extremely breathable fabric, allowing air to circulate easily while releasing surplus dampness. It is a lightweight yet strong natural fiber that provides a stylish texture to activewear garments. Linen is also known to be anti-static and resists pilling.
In contrast to cotton, which retains water and can lead to clammy, uncomfortable clothing, linen allows sweat to evaporate quickly. This helps reduce bacteria that can cause odors and chafing, making it a great choice for high-intensity workouts.
Linen is often found in activewear blends with other fabrics for the best of both worlds. For instance, it is often paired with wool for comfort and moisture management. Bamboo is another sustainable and environmentally friendly option. It is often blended with polyester and other fabrics for added stretch. Bamboo is also known for its breathability. It is a lightweight, soft, smooth fabric with a silky feel. It resists wrinkles and stretches well, making it ideal for activewear. It is also lint-free and anti-static and doesn't cling to the body.
Chiffon
A sheer fabric that offers a delicate feel and transparency, chiffon has long been popular for evening gowns, bridal wear, and lingerie. Its sublime draping makes it ideal for designs that require fluid lines, and it's also very lightweight.
While breathable fabrics reduce sweating, specialized moisture-management technologies go further by efficiently wicking away and hiding sweat from the skin for increased comfort in active wear. These technologies may also help hide sweat lines, a common problem many athletes experience in fitted clothing.
Chiffon is made from various fibers, including silk, cotton, polyester, and rayon. However, it's most recognized for its unique weaving method that produces the fabric in S-and Z-twists. Using these alternate yarn shapes helps the fabric to stretch without losing its softness and breathability. This allows for greater flexibility in movement and a more form-fitting silhouette in workout clothes. Adding this type of stretch to a fabric helps to prevent its structure from pulling and restricting movement, which can lead to injury. It also increases the strength and durability of a garment, making it less prone to tears or rips.