Birthdays help to create wonderful memories in your kid's minds as they grow up. But as much as you want a beautiful memory for them, you might encounter difficulty in choosing the perfect menu for them.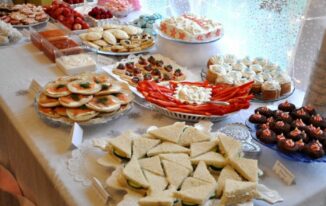 Little children are choosy, so you have to give them something they will enjoy but don't forget, it must be healthy too. You can get the best birthday cakes at emicakes.com. 
Below are 9 kids' birthday food ideas that will surely wow your kids and relieve them of unnecessary stress too.
Always choose food that most of the kids will easily recognize. Make no mistake of preparing something new as most of the kids will be picky and this may ruin the mood of the day.
While making the food preparation, consider allergy-inducing foods as some of the kids might be allergic to some types of food without even knowing while those who knew about it may feel bad seeing other kids enjoying a meal they can.
It is better to avoid those allergy-inducing foods altogether to create to avoid health issues ruining your Kid's birthday party.
Mini Pizzas
Almost everyone loves pizzas and children will be able to handle the smaller size of the mini pizza. Also, mini pizza offers a great variety of toppings that can also be self-made.
Make the kids choose the toppling they want from the popular toppings such as cheese, pepperoni, mozzarella, ham, tuna, cherry tomatoes, and pineapple.
Taco Bar
A lot of kids enjoy making their taco themselves. You can add liveliness to your kid's party by prepping up taco bars for your guests. Get the required ingredients and make the toppings and fillings a day before the party to reduce your workload on the day. Set up the bar in a different room with easy to clean floor. Let the kids pick what filling they prefer, either beef or chicken or probably vegetables.
Fruit Fun
If you believe the kids will prefer fruits more, you should provide them in larger quantities. Make various characters out of the fruits, it will make it look fun. You can also provide the kid with fruits kabobs, it is such a sweet delicacy.
Finger Foods
Most of the kids will be unable to consume a large number of meals due to the various activities they will engage in. You don't need to waste much money and time on meals. Just provide the kids with sandwiches cut into quarters, vegetables and dip, chicken nuggets and ketchup, bagels, and muffins. You don't need too much cutlery as they are always eating on-the-go food.
Birthday Snacks
You don't have to load your kids birthday snacks full of calories and sugar, there are always healthy choices to consider. Meat and cheese tray, popcorn, fruit and veggie platter, guacamole, and salsa.
Cupcakes
The traditional birthday cake should be provided if you can and will allow for the wishes and blow-out-the-candles moment but it is usually much of a hassle. Instead, you can use cupcakes, they require no cutting and are very easy to serve. You can ice the cupcakes in different colors and arrange them in such a way that they spell the name of your child or "Happy Birthday". You can also provide sprinkles, this will enable each guest to create their design.
Sausage Roll
Sausage is a classic food for little children and a bet that those kids wouldn't get tired of munching as much as they can. You can make them sausage mix or veggie sausages.
Marshmallow Dip
Kids love eating sweet things. Offering them chewing lollipops decorated with melted chocolate and cake sprinkles will surely awake their appetite. Also, you can serve them marshmallow whipped and served with strawberries.
Party Boxes
Provide each of your young guests a party box filling each with at least five different items. Such as small yogurt and a spoon, a homemade sandwich, chocolate fingers, a fairy cake, some fruits, and a napkin.